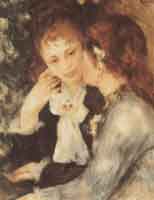 All of the stories in this section are true and written by those that lived them.
Dr. Eckhart,
I just wanted to thank you so much for Progestelle and what it has done for me. I have had stage 4, severe endometriosis for 18 years. Every month was worse than you can imagine when my period came. I have been
to 24 doctors, gone through 2 surgical procedures, and have been on powerful narcotic pain relievers for the past 6 years. The doctors had told me I should just join a research project for endometriosis. They had no answers except to get pregnant, go on continuous birth control, or try to get disability since I was missing so much work. After only a month of using Progestelle and cutting out all Xenoestrogens, my long blonde hair stopped falling out in big globs in the shower, I felt more
energized, and my pain at my last period was cut by at least 75%. I am on my 3rd month now and have stopped having the tremendous bowel endo pain altogether! I am able to surf, go out with friends, and care for
my 2 adopted children. I have stopped missing work for a week every month! I am telling all my internet friends about this amazing product. Thank you for helping me get my life back!

Lisa S.
---
After weaning my son I began to experience severe pain
during menses, ovulation and other times during the month. After almost a year of trying various remedies (as well as trying to conceive with no success) and having the pain get worse and worse, I had laproscopic surgery to confirm a diagnosis of endometriosis. Following the surgery, my doctor wanted to put me on Lupron Depot, which made me uneasy as soon as he described it. I did research and my concerns were confirmed by story after story of adverse effects.
At a loss about what to do next (because the surgery did NOT alleviate the pain), I started searching online for alternative therapies and "stumbled" upon Dr. Eckhart's website. His theories and arguments, supported by studies and testimonies, convinced me. I began to implement his recommendations and take Progestelle. I felt improvement the first month! I made it through a period with no pain medication for the first time in over a year. It has now been 6 months and my pain relief has been sustained. I use Progestelle the second half of each monthly cycle and I can't believe how wonderfully it works!
Melanie M.